How to Decorate Tiered Trays for any Season
Posted on February 25, 2020 by domesticdiva76blog
Decorating is one of my favourite ways to pass time. Lol. I do love decorating my house but I especially love decorating it for different seasons. I know for some it is too much but for someone that works from home and can't really leave (run a home daycare) I get sick of things and often seek change. One way to achieve that is through decor. Especially when it is time to bring sunshine into your home after a long winter. I have just finished decorating my trays for Spring and Easter and I can't be happier with the way they turned out. You can watch full video here
After extensive search last year I have purchased my trays and trust me it was not easy finding these trays where I live. My three tiered tray came from Home Depot https://www.homedepot.ca/product/hampton-bay-3-tier-galvanized-metal-tray/1001187931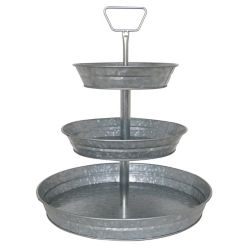 And my Two Tiered tray came from Amazon https://www.amazon.com/dp/B00ME8CUX6/?ref=idea_lv_dp_ov_d&tag=aiponsite-20&linkCode=ic6&ascsubtag=amzn1.ideas.3CTHZY5G6LFLI
I love both of these trays and I always decorate them a bit differently. My three tiered tray is much bigger and I like adding a lot of greenery to it. I keep this tray in my family room.
I usually pull all the colours that I use on this tray to decorate the rest of the house. This tray ties all my decor together. Here are samples of some of my other seasonal decor in this tray.
For my two tiered tray I usually stick to more simple decor. And I try to have it kitchen related as much as possible, since this tray typically stays in a corner in my kitchen.
I hope that this post gave you some inspirations to decorate your tiered trays.
Happy decorating
Sonja
Category: Home Decor, Latest Posts, UncategorizedTags: decor for the home, decorating ideas, decorating on the budget, DIY HOME DECOR, Farmhouse decor, Home Decor, Rustic decor, Rustic Farmhouse, three tiered tray, two tiered tray